What is DVR Examiner?
DVR Examiner is a software solution for acquiring video and metadata from CCTV DVR Hard Drives in a forensically sound manner. Whether in the field or in the lab, DVR Examiner allows law enforcement and other forensic professionals to bypass DVR passwords and archaic menus to quickly extract evidence from the DVR hard drive directly. No need to carve out the data and decipher the time stamps and camera streams.
Data Recovery software is often capable of seeing the data on a hard drive but without specialist knowledge of the filesystem used by an individual DVR manufacturer, it can be extremely time consuming to carve the data and piece it together into a playable video with any relevant metadata tying up specialists on a task that can be easily carried out by DVR Examiner.
DVR Examiner vs Traditional Recovery
The video here shows how quickly you can recover CCTV video using DVR Examiner compared to the traditional method using the DVR user interface.
You can also export the video in an open format using DVR Examiner which is rarely an export option with DVRs.
So Why Would You Need a Software Solution?
No need to power on the DVR even if you do have the power lead
No admin or user password required
No remote control required
No need to use the DVR user interface.
No need for export media such as a USB stick or discs.
No need to retain the DVR once hard drive is imaged and confirmed as compatible with DVR Examiner.
Recover video for periods that the DVR system thinks is no longer available*
Export a selection of the video content in either the proprietary format or a wmp compatible format or both.
The video below demonstrates the time saving when using DVR Examiner over traditional recovery methods. As the list above shows there are more benefits to using the software than just speeding up recovery.
*If DVR Examiner indicates that the recovery of inaccessible data is supported for a specific filesystem then this is an additional option which may recover data that has been accidentally or maliciously deleted via the DVR user interface or data now out of the systems retention policy.

Using the DVR to export video can take upwards of 3 weeks on some systems. With only a few clicks, DVR Examiner allows you to retrieve video from the DVR hard drive directly. This forensically sound workflow saves you and your agency the headache of manually exporting video to flash drives or CDs! Spend more time viewing the images and less time getting them.
"Demux background and expertise in this field has provided me with the material to effectively investigate the offences and will reduce the time required to interview witnesses and suspects."
"Demux background and expertise in this field has provided me with the material to effectively investigate the offences and will reduce the time required to interview witnesses and suspects."
"Our backlog in DVR cases has substantially diminished thanks to DVR Examiner."
"DVR Examiner is a real time saver, easy to use, and they are always pushing out new updates."
Who Uses DVR Examiner?
Forensic Examiners
Are you looking for a forensically sound method of recovering video from CCTV DVRs? DVR Examiner provides a forensically sound workflow to save you and your agency the headache of manually exporting video to flash drives or CDs!
Looking for video that the DVR says isn't there? By accessing the raw data DVR Examiner may be able to recover inaccessible video that you cannot recover with the DVR.
Law Enforcement Investigators
There are hundreds if not thousands of DVRs available on the market. Having to learn how to work with each unique system is a time consuming and frustrating process. By working with the hard drive directly, DVR Examiner allows you to bypass the DVR and work with the video in a consistent and easy to use interface.
Quicky and easily recover video at the scene in a fraction of the time it could take to export with the DVR itself.
Arson Investigators
Have you ever arrived at an Arson scene and found a burned and mangled DVR that may contain valuable evidence? In many situations the DVR housing can protect the hard drive from the damage of the fire, allowing you to easily recover your evidence.
With DVR Examiner you do not need the DVR to be operational, just the hard drive. Once it has been imaged you can start to examine the video content.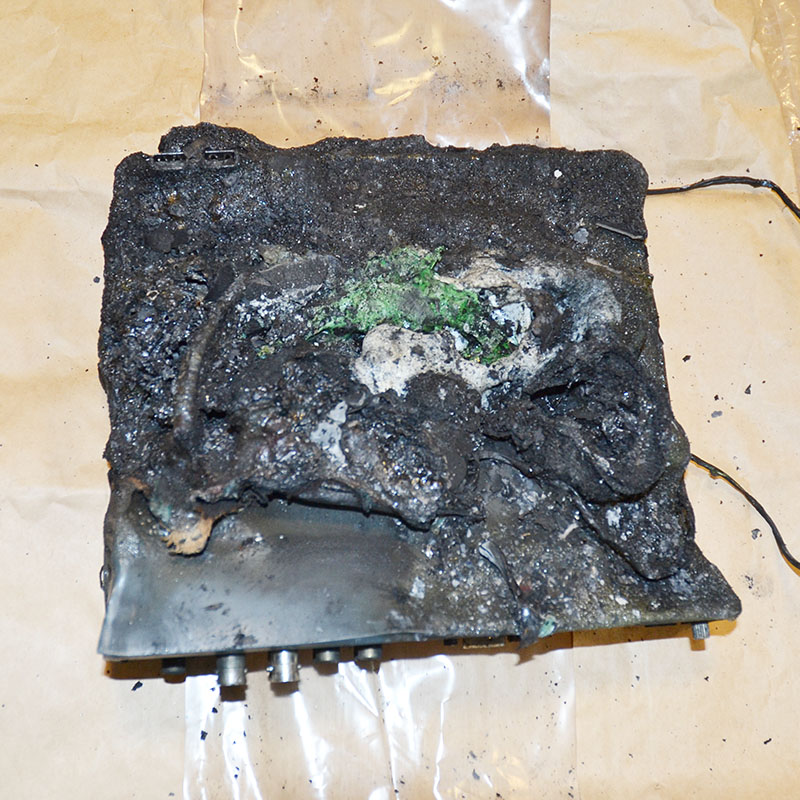 Private Investigators

Using the DVR to export video can take upwards of 3 weeks on some systems, tying up you and other resources. With only a few clicks, DVR Examiner allows you to retrieve video from the DVR hard drive directly and you can do it at their location.
This forensically sound workflow saves you and your company the headache of manually exporting video to flash drives or CDs!
Can I submit a request for a specific DVR model to be supported by DVR Examiner?
Absolutely! We are constantly looking to identify new models of DVRs that users are seeing out in the field. In an effort to better prioritize our list of DVRs, we ask that you submit a DVR Examiner Profiler Report. You can do this either directly in DVR Examiner when you create the Profiler Report, or by uploading the complete report to our Support Portal. Implementing a new DVR model is a very complicated task. Depending on the file structure and the proprietary nature of many DVR models, this can take some time. Once we receive your Profiler Report we will update you on the progress. If you have an immediate need for a new DVR implementation, we do provide a Prioritized DVR Implementation service. If you are interested in this service, please let us know and we can get you a quote.
What is the minimum spec for my hardware to run DVR Examiner?
The following are minimum required specifications:
– Windows 10, 10 Enterprise
– 16 GB RAM or more
– Dual Core Processor or better
– 1366×768 minimum recommended screen resolution
Notes:
Windows 7
Due to Microsoft no longer supporting Windows 7, DVR Examiner will not be supported on Windows 7 machines.
While DVR Examiner may run and function normally on Windows 7, we cannot guarantee this. DVR Examiner requires certain certifications and Windows updates to perform, and most versions of Windows 7 will not have these requirements.
Windows Server
DVR Examiner requires the Windows Media Foundation to be installed. In many server installations this pack is not installed and DVR Examiner may not install or function properly. Windows provides server specific Media Foundation packs that can be installed on your server. If you are attempting to install DVR Examiner on a Windows Server machine, it is recommended to install Windows Media Foundation first.
Running DVR Examiner on a Non-Internet Connected PC
DVR Examiner can be run on both an internet connected and a non-internet connected PC. However, with new versions of DVR Examiner, it may be necessary to update Windows to get DVR Examiner to install and perform correctly.
It is recommended to always keep Windows up to date, even on a non-internet connected PC.
Please consult your IT department about keeping non-internet PCs up to date.
What happens if I lose my DVR Examiner dongle?
Please contact us and we will provide a quotation for a replacement dongle, your original dongle will be deactivated.
Do you support [Insert Make/Model] DVR?
At this time we do not have a list of known makes and model that are supported in DVR Examiner. Please feel free to test our compatibility through our free trial and submit a DVR Feedback Report. For more details see the next question.
How many DVRs does DVR Examiner support?
We get this question a lot, and the simple answer is: we don't know. DVR Examiner targets and supports a specific DVR filesystem, or DVR system board. Each board has its own unique way of processing and storing video, and a single version of a board could be found in multiple models by multiple manufacturers. For example, we have found a single particular board in numerous Lorex, Honeywell and Ganz models. As a result of this, it is very difficult for us to determine how many makes/models are supported. As of the version 1.6 release we support, in some capacity, over 75 unique DVR Filesystems. We're estimating that will include over 500 individual DVRs, but as mentioned above, we can't easily create a list of them. We have roughly 150 DVRs in our testing process so far and that number is always growing. We are constantly hearing success stories from users that have successfully recovered video from DVRs made by: Swann, Q-See, Night Owl, Zmodo, Lorex, GE, Vonnic, Veraz, GEN IV, and many other 'black box' and 'big box specials.'
We ask for user feedback by submitting a DVR Feedback Report on our Support Portal in order to better capture this information so we can publish a 'known supported' list.
The software change log lists DVR brands and systems that are currently supported.
How will I know if there is a new version of DVR Examiner?
The software prompts you to download new versions as long as your workstation is connected to the internet. We understand that very often forensic workstations are not connected to the internet so we also publish a blog post detailing update news and this can be sent to you as an email.
Is it possible to try out a full functioning version for estimates on how long the complete process takes?
In an effort to provide you with a full experience during the free trial, we provide multiple sample files on the Support Portal that are full featured and give you a demonstration of all the functions of DVR Examiner. We feel this provides all the needed information for the evaluation process and as a result, we don't allow fully functioning trials. Preview and Export options are restricted in the Trial Version to only previewing and exporting the first clip (Clip ID #1) on any hard drive. If you have a concern that is not addressed, please feel free to contact us.
What is the cost of "prioritised DVR support"? Is this a pay per file system service and if so what is an approximate turnaround time the process?
The priority service is designed for those times when it is imperative that a system is implemented as soon as possible. The time frame and cost to implement varies depending on the complexity of the system and what level of support is required (accessible vs. inaccessible data, for example). For an average system with accessible video support, a general estimate would be 1-2 weeks. We can give better estimates depending on the individual circumstances at the time. We usually try to acquire the same make/model DVR for testing purposes, but we may request to use your system (but not your evidence drive) to perform the testing if we can't procure a suitable device. As always, if you are not in a situation where you need immediate implementation, you can submit a DVR Profiler report and we will work to implement that DVR filesystem into DVR Examiner.
The software is sold as a 1 year subscription. Does the software continue to function after the year is up?
If you haven't already renewed at the end of your years subscription the Expired Subscription screen will notify you when the subscription for the connected dongle has expired. This screen will display the Dongle ID, the Subscription Start and End dates, and who the dongle is registered to.
New with DVR Examiner 2.x, once your subscription has expired you will only have access to saved cases with DVR Examiner 2.x all future software updates would not be available to you. Updates include new features within the software, but more importantly additional DVR filesystems and updates to existing filesystems.
If your subscriptions started before DVR Examiner 2.0 was released you will have access to DVR Examiner 1.x indefinitely and will only need to update your license database every 90 days to continue using it although it won't include any new updates or features.
Is there an approximation as to how many updates could be expected in a year?
At an absolute minimum, we will have updates quarterly, or 4 times a year. There may also be additional bug fixes or patches released between feature releases.
Am I allowed to install DVR Examiner on multiple computers?
Yes, and we encourage this. The DVR Examiner dongle is your license key and must be plugged into the current system running DVR Examiner. We designed it this way to allow for the greatest flexibility, users can install DVR Examiner on as many computers as they need. If you wish to have DVR Examiner operate on more than one computer at the same time, additional licenses (dongles) may be purchased.
Is there training available for DVR Examiner?
We know how important training is to end-users so we are working with the software developers to provide training and will update this as soon as we can.
Expert Training to Get the Most From Your Software
Online instructor led training is a must to give you the skills and information you need to get the most from your software.
Live training allows candidates to ask questions and get interactive answers from real people.
See all the training available for your DVR Examiner software
Free 30 Day Trial – Request Your DVR Examiner Trial
DVR Examiner software recovers video from the hard drive of a CCTV systems DVR. Learn how you can download the software and test it to see how much time and effort it will save you. We just need a few details from you so that we can send you the link to the download page. If you are based outside of our territory we will forward your details to the developers' team.
Want to know
more about
DVR Examiner?
If you have any questions or a video evidence related problem that may be solved by DVR Examiner but would like to discuss, please drop us a line with the form on this page and we'll be in touch soon.
If your enquiry is more urgent or you would like to talk through your requirements,
why not give us a call on 0845 226 3128
Want to keep up to date with software enhancements, new products and training?
Sign-up for our emails. We'll only send you the occasional email with tips, hints and enhancements on available softwares. We'll also send you information about new training courses and workshops.
We promise to keep your email details to ourselves, never give or sell them to anyone and you'll be able to unsubscribe at any time if you no longer want to hear from us.