iNPUT-ACE Version 2.6.7
New & Improved On Screen Text
Investigators around the world use iNPUT-ACE to build powerful demonstratives. The new and improved on screen text capabilities enable users to display a corrected date and time on video, add a title for the demonstrative, highlight the frame number, and more!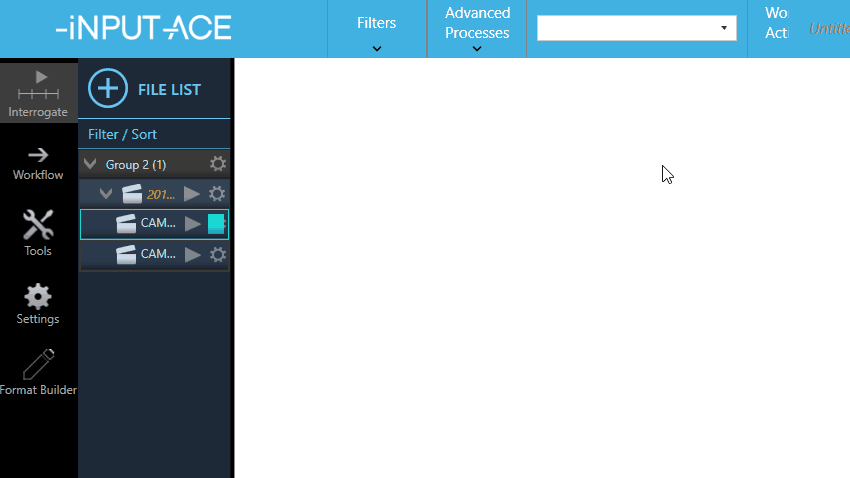 A single click on the text box allows you to move and place the text anywhere on your video. Double-clicking on the text box will allow you to add any text you desire while also changing the size, color, and font of the on screen text.
iNPUT-ACE leverages the ability to incorporate more than just a title. Using a convenient drop-down menu, you can select additional variables to display. Add a correct timestamp, picture type (I, B or P frames), or frame number (frame number inside the file). These assets are pulled directly from the metadata of the input file.
You can also directly type into the text box using a tokenized string (%timestamp) to add these same values. The improved functionality of our On Screen Text node will allow you to place valuable visual information as required on to your video evidence.
Our team is working diligently to add additional sources of metadata to the On Screen Text node that will be coming soon in future releases.
Panasonic Arbitrator AV3 & More!
Panasonic's Arbitrator AV3 audio and video and EXE formats are common file formats that have been frequently requested by iNPUT-ACE users. They are now here!
You can load Panasonic AV3 files and various EXE files directly into iNPUT-ACE. You can play them, interrogate them, synchronize AV3 and EXE files them with other video formats, convert them, and more – all through the same public safety grade video evidence solution.
Improved Synchronization, Audio & New Formats
Audio is making a big splash in version 2.7.0. Since the earliest versions of iNPUT-ACE, Milestone .blk video could be played and converted automatically from the file list. Now in Version 2.7.0 we've synchronized the audio and video sources for you. This is just one example, but many formats now include synchronized playback of the video and audio streams such as formats from Genetec, Verint, L-3 Mobile, March Networks, Milestone SmartClient, and MagicLite, just to name a few.
Our team has once again added several new formats to iNPUT-ACE. Our world-class support team continues to offer Aceformat files to users when they encounter a video that cannot play. Our patent-pending developer tools help provide a custom decoder for the user that allows iNPUT-ACE to properly play the file. Many of these decoders are now included in Version 2.7.0 making iNPUT-ACE the global leader for the number of formats we can play, analyze, and process.
Enhanced Processing of Variable Frame Rate Video
Many new formats will now include date and time information. As discussed in our recent webinar (see below), many files do not have a standard method for storing date and time information.
Now with iNPUT-ACE Version 2.7.0 our team has unlocked a completely new method for decoding these proprietary date and time structures, ensuring that the files play back and can be converted within iNPUT-ACE while continuing to maintain this valuable timing information!
The highly-anticipated VFR Lightboard Tool has already received some upgrades.
The new VFR Lightboard was part of the iNPUT-ACE 2.6.3 release. The Lightboard provides an easy workflow to accurately calculate vehicle speeds from any surveillance camera device within a reported margin of error.
With this release, the VFR Lightboard tool has some new features that will improve speed and usability for Investigators and analysts looking to calculate speed from video evidence.
iNPUT-ACE Version 2.6.3
2.6.3 New AceFormat Features
AceFormats were introduced in version 2.5 to help iNPUT-ACE users who interact with our support team. When a user encounters a video file they cannot play, they simply need to submit a support ticket that includes the unplayable video.
Our world-class support team puts the file into our patent-pending developer tools to create a custom AceFormat decoder that can be sent to the user. This AceFormat file teaches the user's iNPUT-ACE how to play the file. Our team leverages the work that goes into creating all the different AceFormat files by packaging them into our next release, therefore benefiting all users.
In version 2.6.3, we have added a new messaging component for all files. This allows our support team to communicate specific information about files and offer helpful tips to improve your success with playback on a variety of file formats. Below is an example of this new feature: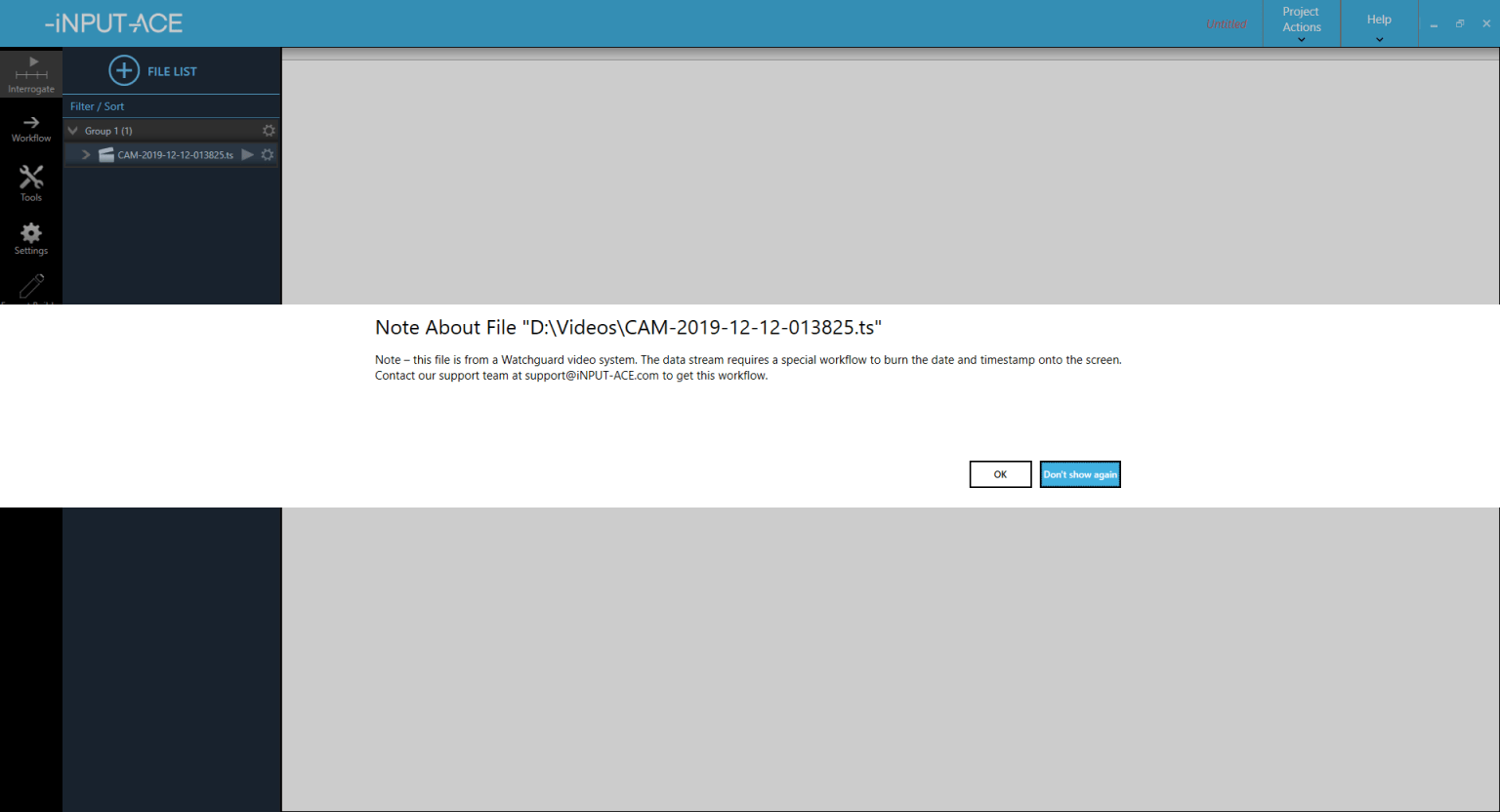 Introducing the VFR Lightboard
Did you know that video files often lie about their timing?
A file's frame rate and other timing metadata are often inaccurate. If a file says that it is "25fps", this does not necessarily mean that every frame is actually 1/25th of a second apart. Many of these files have variable frame rates, and some actually have different frame rates than the one reported in the file – making it impossible to accurately calculate vehicle speeds from file metadata alone.
It is not uncommon to see comprehensive scientific presentations get entirely dismissed over a single critical element, like misrepresenting speed through a frame rate calculation.
Fortunately, the new VFR Lightboard solves this problem…
What is the VFR Lightboard?
The highly anticipated Variable Frame Rate (VFR) Lightboard was designed to provide an easy workflow to accurately calculate vehicle speeds from any surveillance camera device within a reported margin of error.
The VFR Lightboard includes both the hardware (the lightboard itself) and the software (a tool inside iNPUT-ACE 2.6.3) that enables speed calculations.
To get started, investigators simply place the Lightboard in front of the camera in question and record the Lightboard's light pattern.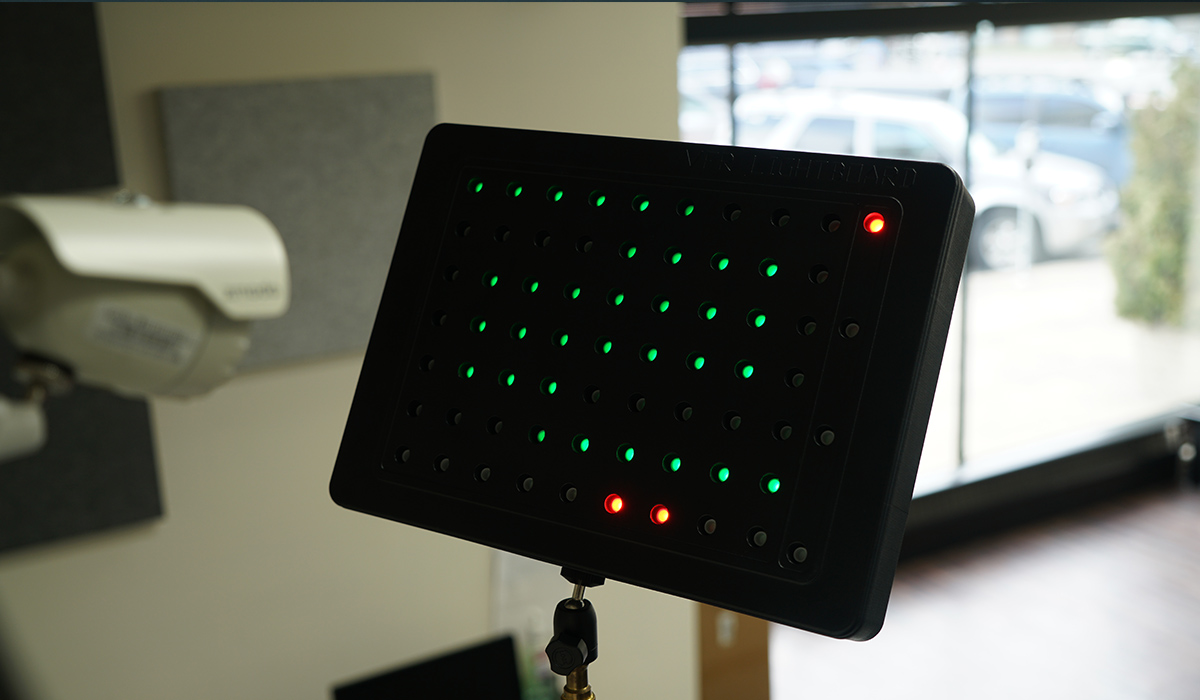 Next, the recorded video is added to the VFR Lightboard tool inside iNPUT-ACE, allowing the software to analyze the precise LED light pattern and produce a report that articulates the minimum and maximum timing that can be applied to calculate speed.
With the VFR Lightboard, you can avoid making any assumptions or speculations on the reported frame rate.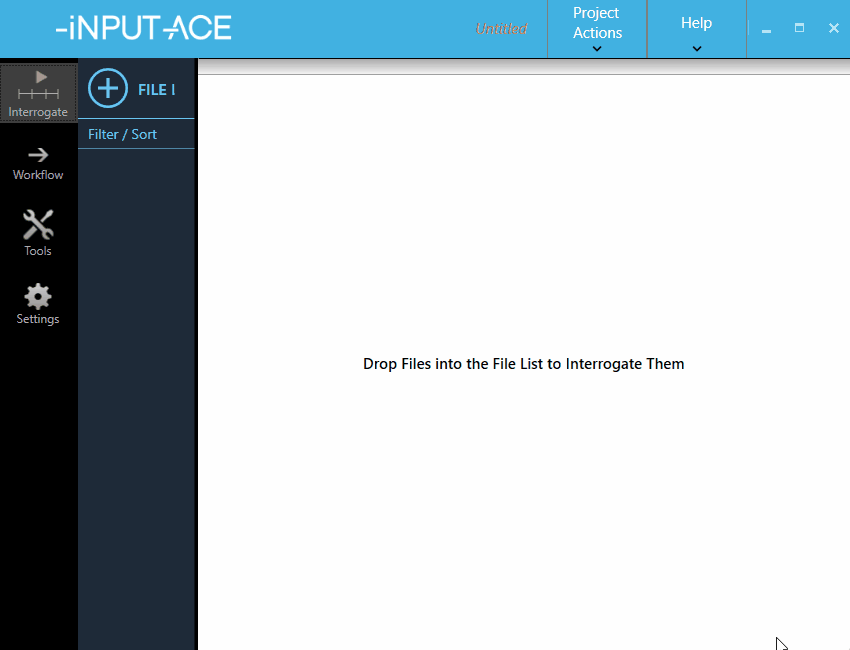 iNPUT-ACE Version 2.6.2
The latest version includes the following updates:
Faster indexing speeds
Brand-new architecture that enables the playback and conversion of proprietary audio
New audio file formats
Automatically Open Video Files with iNPUT-ACE
Improved 4K resolution support
Updated templates in the Narrative Report tool
Ability to set file types to open with iNPUT-ACE by default
More Metadata Available in the Video Integration Suite (VIS)
Additionally, our online training portal has officially launched and is now being used for every live training class. You can also watch on-demand training symposium content through the portal once you have been granted access.
Learn more about our latest update below:
Faster Indexing Speed
You may have noticed that some video files (most commonly mp4 files) included a processing indicator during the initial playback. In the past, users experienced some limited functionality while the file indexes. For instance, some frame stepping was marginally slower during this indexing process.
Good news: In Version 2.6.2, the processing bar indexes files 50-60 times faster! This new feature is another way in which iNPUT-ACE helps enhance efficiency for investigators.
New Proprietary File Formats Added (including Audio!)
As usual, many new file formats have been added to the expansive list of files that can be dragged, dropped, and played by iNPUT-ACE. New formats for this release include QBX (with audio), several EXE formats, new PSF and SEC variants, and more.
We're also excited to announce the presence of new proprietary audio formats that can now be played and converted through iNPUT-ACE. This fundamental new architecture currently supports a dozen new formats, but more importantly, it enables our development team to support new audio formats in the future with our .AceFormat file decoders.
How do .AceFormat files work? If you encounter an audio (or video) file that you cannot play in iNPUT-ACE, just send our support team the file. Our development team will review the file quickly and create a new decoder that will be sent back to you as an .AceFormat file. This file can then be loaded into iNPUT-ACE and it will teach your system how to play the file.
Automatically Open Video Files with iNPUT-ACE
When you double click to open a file on your computer, the default application will open that file. For instance, if you open a .docx file, then Microsoft Word will open the file.
Users can now set iNPUT-ACE as the default program to open any video file type. For instance, if you regularly need to review .MP4 files or .QBX files or .G64X video files, you can right click the file, choose "open with," and select iNPUT-ACE as the default program to open and play those video files.
Improved 4K Screen Resolution Support
Do you review video evidence on a high-resolution screen? We've updated our scaling on every tab so that fonts, objects, and menus are more legible, regardless of the resolution of your monitor.
In this field, every detail matters. You can now take greater advantage of your 4K screen!
New Templates for the Narrative Report
The Narrative Report tool is one of the most powerful features of the iNPUT-ACE application. It allows you to create shareable PDF reports that contain embedded images and video.
We've added additional templates that can expedite your report writing by starting from pre-built layouts. Check out all our templates by toggling to the Narrative Report Tool and selecting File > Load Template. You can jump-start your next report or save your own customized template complete with all the standard information your agency requires. Another way iNPUT-ACE saves you time!
More Metadata in VIS
The Video Integration Suite (VIS) is a powerful tool that integrates with Digital Evidence Management Systems (DEMS), Video Analytic Solutions, Redaction Software, or any other solution that encounters video evidence. VIS provides access to the iNPUT-ACE decoding and conversion technology through a simple .NET API, integrating our lossless conversion engine directly into a variety of solutions.
In this release, VIS provides external solutions access to additional metadata during the conversion process (including surveillance video date/time) making it easier to align multiple sources of evidence in external solutions.
In version 2.6.2, VIS now provides the third-party date and time as metadata for each video file. For example, if your agency uses Axon body cameras and Evidence.com (a DEMS solution that has integrated with VIS) to store a variety of file types, historically, you could only see the metadata for Axon body camera video files. Now, you can see that time and date information on any video file type, including proprietary CCTV files.
iNPUT-ACE Version 2.6.1
Date/Time Offset Feature Improvements
Have you ever examined video and discovered that the date and time displayed by a video recording system was not the actual, correct time?
Even if the camera was set up with the correct time and date, there are many reasons it can drift: power outages, daylight savings, and more can disrupt the timestamp of cameras. If you need to find visuals of a person who appeared at a particular time, it would be extremely time consuming when each of the cameras have different timestamps.
At least, it was time consuming before iNPUT-ACE.
iNPUT-ACE has an easy-to-use date/time offset feature which allows investigators to enter the correct date and time for a single frame. The updated date/time information is then applied correctly to the entire video file.
We've made quite few improvements to simplify this workflow and it can save you lots of time when trying to find footage or synchronize clips. Click on the video below to learn more about this improved feature!
Correct Half-Resolution DVR Formats with the Click of a Button
At times, video collected from certain DVR systems is rendered at 2CIF (704 x 240) upon playback. These files need to have the height doubled for proper playback and viewing.
In the past, users could execute a resize workflow to adjust the height of the images, but now in Version 2.6.1, the team at iNPUT-ACE has made this task much more efficient and simple.
The smooth render button was introduced in version 2.6 and provides a quick and simple way for investigators to view different files in a more clear way.
By clicking the 'smooth render' button within the playback controls, the height of 2CIF formatted files is automatically doubled for proper viewing.
New File Formats Added
Version 2.6.1 contains over 15 new file formats that have been added to the expansive list of files supported by iNPUT-ACE. Some of these new formats are often seen in files with the extensions .dat, .data, .dcr, .exe, .tfs, Bosch xl1 and many more!
Encountered a file format that iNPUT-ACE cannot play? Any user can request the addition of new file formats into iNPUT-ACE. Our Platinum Support customers have access to a dedicated team that can often perform same day turnarounds.
New "Stream Hash" Metadata
We have added a new button to "Calculate" the Stream Hash of any given video/audio stream and place it directly on the interrogate tab.
Once calculated, the Stream Hash will display a single MD5 hash for the decoded stream. This Stream Hash is effectively the same thing as the sum of all Frame Hash values that can be calculated via the Frame Hash CSV node on the Workflow Tab.
This feature has many powerful use-cases. For instance:
Try calculating the stream hash on one of the streams of a proprietary video file (i.e. MyProprietaryFile.dav).
Then, convert the MyProprietaryFile.dav to a standard format using a lossless Workflow (for example, by running the Stream through a Standard Output node set to "Best Quality").
After running the workflow, bring the new converted file back into iNPUT-ACE and calculate it's Stream Hash.
Since the iNPUT-ACE Workflow was performed with lossless settings, the new converted file will have an identical Stream Hash as the original Proprietary file.
This simple button helps validate that every single frame – and every single pixel – is identical between the original proprietary file and the converted standard file you created with iNPUT-ACE.
New On-Prem Video Integration Suite (VIS)
iNPUT-ACE has developed a powerful, back-end API based solution that can be integrated into external platforms to unlock the power of proprietary video playback in any cloud or on-prem solution.
We have current integrations directly with agencies who are automatically converting any files saved to their local network, analytics companies who provide software for automatic analyzing of video content, and we're proud to announce that we recently partnered with Axon to integrate our engine into evidence.com.
iNPUT-ACE Version 2.6.0
An Enhanced Playback Experience with New Controls
For the past several months, our team has been redefining the playback experience, and the new iNPUT-ACE playback engine will not disappoint. Users can now take advantage of instantaneous playback and smooth frame stepping for a dramatically improved experience. When loading large video files, you no longer have to wait on indexing to start reviewing your video evidence. With our unique indexing, you can now jump right into playing and frame stepping through large files There is no more waiting, allowing you to start your video interrogation immediately.
New Full Screen Button
We've added a new Full Screen Button to the standard controls on the playback window. You can now easily pop out a separate, moveable window to maximize the evidence viewing area. This set up is essential whether working with multiple monitors or examining evidence in detail on a single monitor or laptop. When testifying in court, you can now pop out and maximize your playback window for the jurors while simultaneously queuing up the next video on your computer.
Nearest Neighbor/Smooth Rendering Button
The rendering button switches between Nearest Neighbor and Smooth Rendering. Nearest Neighbor rendering maintains the hard edges of the original pixels for a forensically sound playback. It is critical in understanding how many pixels make up an object, such as a license plate or weapon, and it allows you to quickly determine what can be enhanced right from the playback window. Smooth rendering draws smoother edges and color transitions for more visually appealing renderings. It is especially helpful when displaying demonstrative video evidence that focuses on actions or movement.
Convenient Resizing Options
We've made the resizing of your evidence easier than ever with the addition of these convenient buttons. Increase the size of your playback by 100%, 200%, etc. Automatically fit the evidence to your screen or move to a specific area while zoomed in. Then, when you're done examining in detail, snap the playback back to 100% with the click of a button.
Simplify Your Workflow With Auto Name Markers
We're always thinking of ways to help you accelerate your investigations, and the new Auto Name Markers option does just that. By allowing iNPUT-ACE to automatically name Markers, investigators can quickly tag relevant frames without needing to pause to type in a name or other details. Marker names and metadata tags can always be added at any point, plus the setting can easily be turned on or off for maximum flexibility.
Select "Auto Name Markers" in iNPUT-ACE Settings
Use the "M" Key to Mark Frames Automatically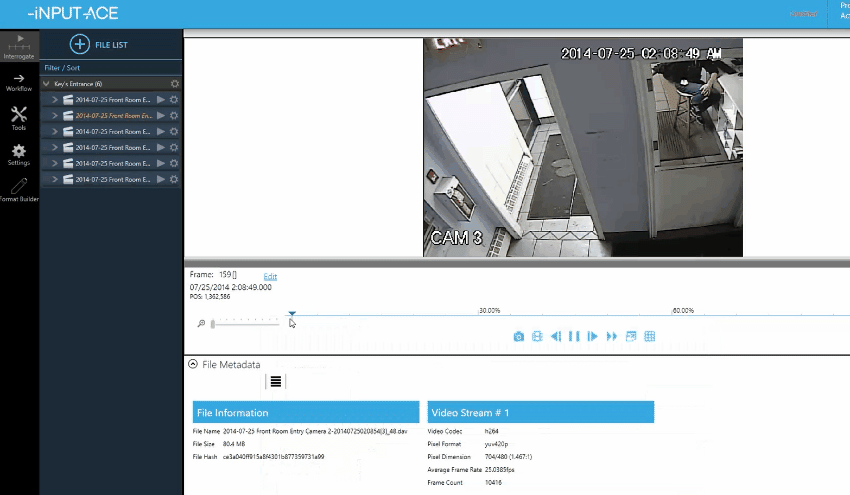 New Automated Options for Syncing Date/Time
Investigators are often frustrated when trying to synchronize time between multiple pieces of video evidence. In order to simplify your workflows, we've added easy-to-use options for syncing your time. Enter a known date/time or calculate the offset by using the new "DVR Time" and "Actual Time" options for a single file or a group of files/streams.
75+ New Video Formats
We've added 75+ new video formats to iNPUT-ACE 2.6. That's the largest addition of formats to a single release yet. It's all possible because of a completely overhauled method for decoding proprietary video files that we launched with iNPUT-ACE Version 2.5 and thanks to a heroic effort by our support team to meet the needs of investigators.