Following the purchase of iNPUT-ACE by Axon Enterprises at the end of last year this is the first release under the new branding.
This is a simple name change right now and the developers are continuing to invest in the technology (and this release proves that with all the new features!). The main updates are reviewed below but for people who want to learn more there is also an upcoming webinar available (see link at the end of this post).
Let's start with the name. As part of the continued intrgeation in to the Axon ecosystem, iNPUT-ACE is now called Axon Investigate. For this latest integrated version, to make the transition as smooth as possible and remove any confusion, both names are included – Axon Investigate iNPUT-ACE 2.8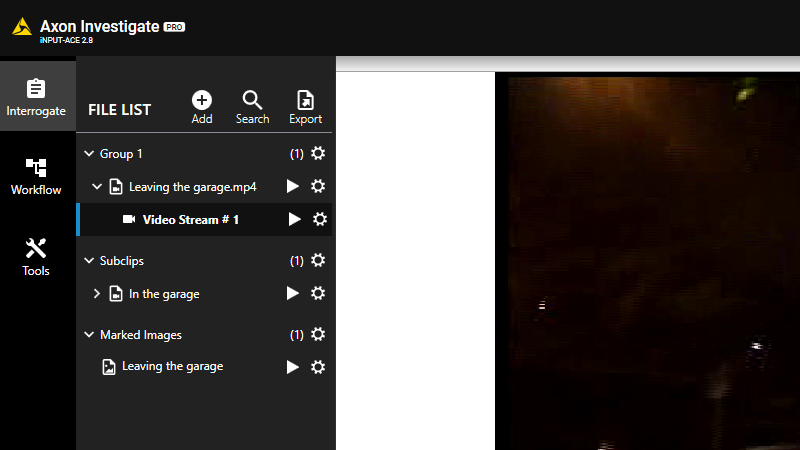 So, what can you expect of the newly names release?
Beyond the visual facelift, this update provides a host of new features that are all about speed and ease. This version focuses on development, specifically around improving the user experience for smoother, faster, and more intuitive forensic processing.
The interface may have a modern and sleek facelift, but the layout and workflows continue to be familiar, and you'll be pleased to know that existing training certifications are not affected by these changes and remain valid.
File list quick actions
Axon Investigate 2.8 features a new File List design with Add, Search, and Export icons for quick and easy actions.
You can still Drag and Drop your files and folders directly into the File List or use the Add+ icon to locate your files on your computer.
You can now add Project files directly into the File List just like any other media! Simply drag and drop your .project file into the File List or click the Add+ icon to select the .project file to load. Users can still load projects from the Project Actions dropdown menu, but this feature is a quick and easy way to reload your work.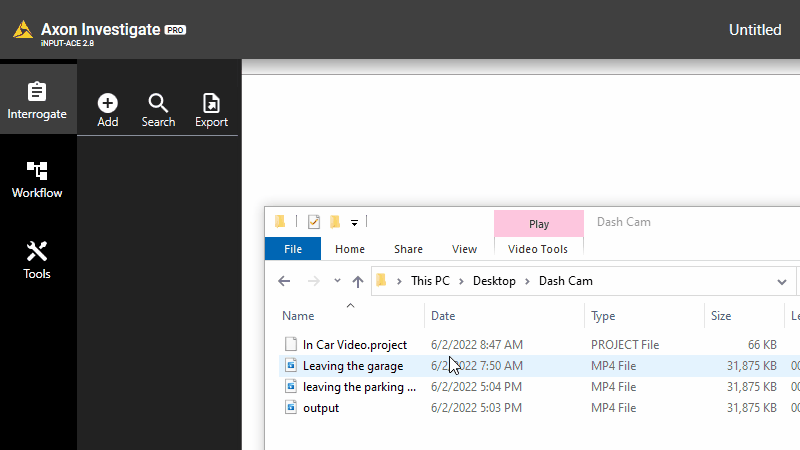 Look out for the new Export icon that allows investigators to convert items to a standard format directly from the File List. Simply click the Export button and choose if you want Best Quality to ensure 100% lossless conversion, or Best Performance if you are comfortable with some minimal compression to obtain a file that's easily playable in external software.
Historically, users would toggle to the Workflow Tab and connect files to the Standard Output node to convert to a standard format like MP4. Now this can be done in a single click right from the Interrogate Tab! Of course you can always still toggle to the Workflow Tab for more fine-tuned control of your Workflows – but this new File List button is a fast way to accomplish the most common conversion Workflow.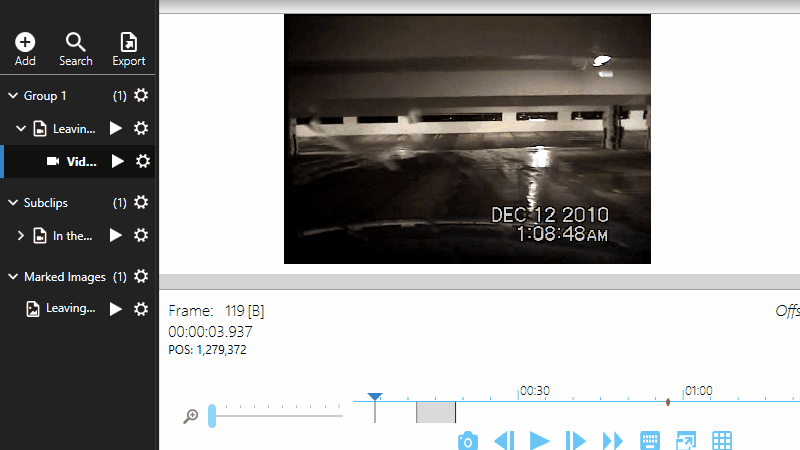 Step-to and Go-to features
Most users are familiar with "scrubbing" or "frame stepping," where you use the left or right arrow keys to move from one frame to the next.
But what if you wanted to use the arrow keys to navigate and step to other key measures of time? With the new Axon Investigate Step-To feature, you can do that quickly and easily!
The Step-To tool allows the user to select an interval of your choice (including frames, bytes, seconds, or I frames), and then progress forward or backward through a file by that interval. To enable this, open the pop-up window for this function, set a desired Step Interval value, and proceed through the file by using the hyperlink or the designated hotkeys (ctrl & left or right arrow).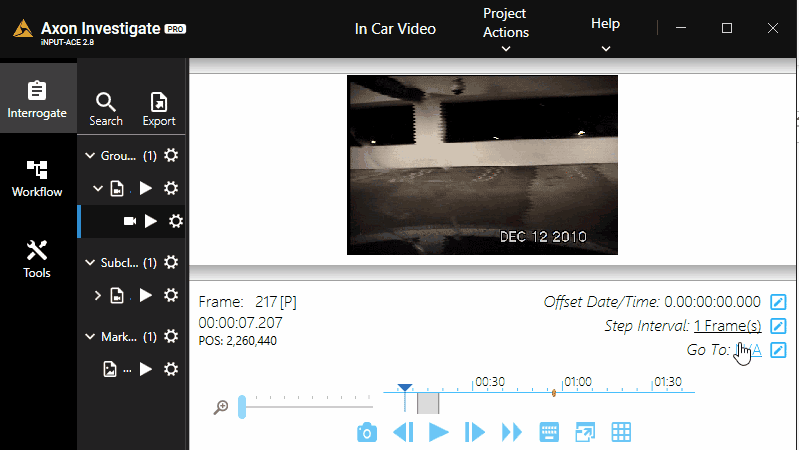 The Go-To tool allows the user to navigate to a desired frame number, date/time, or byte position. To use this tool, click the pencil to open the pop-up window, enter a value, and click Go. After navigating away from this position on the timeline, you can return at any time by clicking the hyperlinked Go-To value on the timeline.
Both features have hotkeys too so keyboard and mouse users alike will find these features easy and quick to navigate.
New Hotkeys
Several Hotkeys have been added to support the new features, including;
Open the menu for Step-To: Ctrl + Shift + Arrow key (for direction of step)
Step through the file by the selected value: Ctrl + Arrow key
Open the menu for Go-To: Ctrl + G
Open the Camera Match Overlay Tool: F5
Open the VFR Lightboard Calculator: F6
Some new hotkeys have been created for some of our traditional features:
Reverse playback: J (press again to reverse at 2x speed)
Play/pause: K (or use the space bar)
Fast forward: L (continue pressing to fast forward up to 5x speed)
The hotkey menu can be displayed from the timeline or via the Help tab. This menu can be moved to a separate monitor for reference during processing. Mouse users will be glad to know that the icons in this menu are also clickable.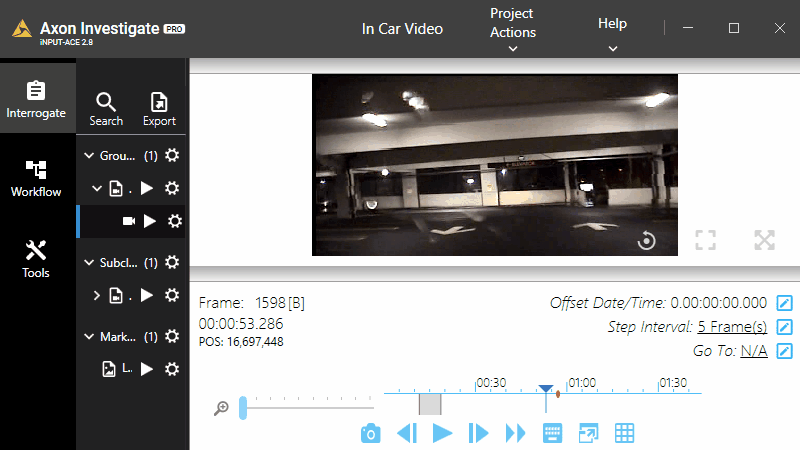 Output naming revamped
The output file name is prefilled, but now users can select Advanced Naming options to include in their file name.
These Advanced Variables are:
the original input file name
the original file extension
the file's original date and time
the current date and time of the export
the stream name
the stream type (video or audio)
Users can now include any of these options in the final output name along with any text the user wants to add. You can even save your default preferences right from this menu, making the output file naming process even more expeditious.
Editing frame time and calculating offsets
The Edit Frame Time and Calculating Offsets tools have a new place together on the timeline. The "Offset Date/Time" menu allows users to edit frame time or apply an offset to the date and time.
A new field has been created in the settings of each file simply called "Date Time." If date and time is available in the file, it will be displayed in this field. This field can be edited by the user, and the corresponding offset will be reflected in the same dialog box.
Improved synchronization and new formats
The development team continues to add new formats to Axon Investigate with every new release, helping to maintain their position as the industry leader in the number of formats they can play, analyze, and process.
Their ability to sync audio and video streams covers a wide number of format types and continues to expand every day. HEIC image formats and numerous N3R formats are now playable inside Axon Investigate. There have also been additional advancements made to .cme, .irf, .g64, .264, and .dav formats including the addition of audio in some cases.
The interrogation of Panasonic AV3 and Milestone BLK data has been unlike any other formats Axon handled to date. You can now load .xml data and folders of these proprietary format files into Axon Investigate for the same playability you are accustomed to with other formats.
Axon Investigate has also improved their ability to handle merged streams of audio and video in files that contain date and time information. For example, in-car-video was historically played independently from the audio streams due to syncing issues from the pre-event buffer. Rest assured that these streams are now merged automatically to play the audio and video streams in sync with accurate timing information.
Axon continues to shine by providing custom decoders to users for proper playback inside Axon Investigate. Users can now see the specific Aceformat being used to interrogate the file inside the file's settings.
Windows 7 no longer supported
This release of Axon Investigate will not work for Windows 7 users.
Microsoft ended support for Windows 7 over two years ago, and while Axon have maintained backwards compatibility for as long as possible, they believe this is the right time to make this change.
Removing this compatibility enables them to develop and update their software at a faster, more efficient pace that benefits users of Axon Investigate.
If you do not use Windows 7, you can disregard this announcement and look forward to Axon Investigate/ iNPUT-ACE 2.8!
If you are still on Windows 7, then you're encouraged to consider upgrading your operating system (consult your IT department as required), or you may continue to use the current iteration of iNPUT-ACE 2.7.2.
What's new in version 2.8 webinar
Find out more about the latest release in this webinar on
Wednesday 29th June at 6pm-7pm BST.
Click the link below to visit the registration page.